Next:
Occlusion
Up:
Stereo Geometry
Previous:
Fundamental Matrix
Rectification

As said in the beginning of this chapter, using a standard geometry (parallel optical axes) has the benefit that only horizontal disparities can occur and thus the corresponding point for a point

in the left image can only be found in the right image having the same y-coordinate as point
. Unfortunately it is almost impossible to mount the cameras in a perfectly parallel way. As we heard in the last section, the fundamental Matrix

describes the relation between the two image planes and the corresponding point

of
can be found on the epipolar line

. The process of rectification transforms the input image in a way that the epipolar lines are horizontal and thus no vertical disparities can occur. The search for a corresponding point is thus along the horizontal scan line in the other image. Figure 2.8 shows four images.
Figure 2.8:
From left to right, top to bottom. 1.) left image with some points marked 2.) right image with corresponding epipolar lines of the marked points in the left image. 3.) rectified left image. 4.) rectified right image with plotted epipolar line.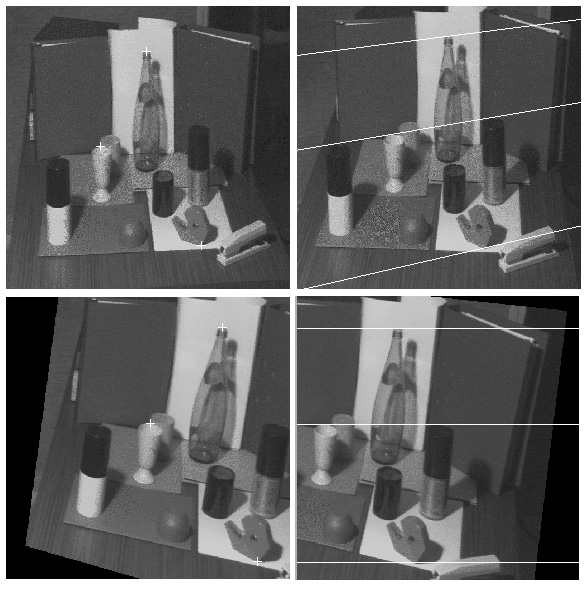 The top left shows the left image with some points marked. The top right image shows the corresponding epipolar lines and the bottom images shows the result of rectification. In the bottom right image the epipolar line is plotted. One can see that it is horizontal now.
---
Next:
Occlusion
Up:
Stereo Geometry